"I think you've got to be a little nuts to be a chef."
Kerry Simon
Miami 1993
Dubbed the rock-n-roll chef by Rolling Stone Magazine, the aspiring musician's love for cooking did not start right away. In his late teens, the Chicago native worked at Little Caesars Pizza to save money for an electric guitar. The summer job sparked Simon's interest in food and late night recipe testing from Julia Child's cookbook.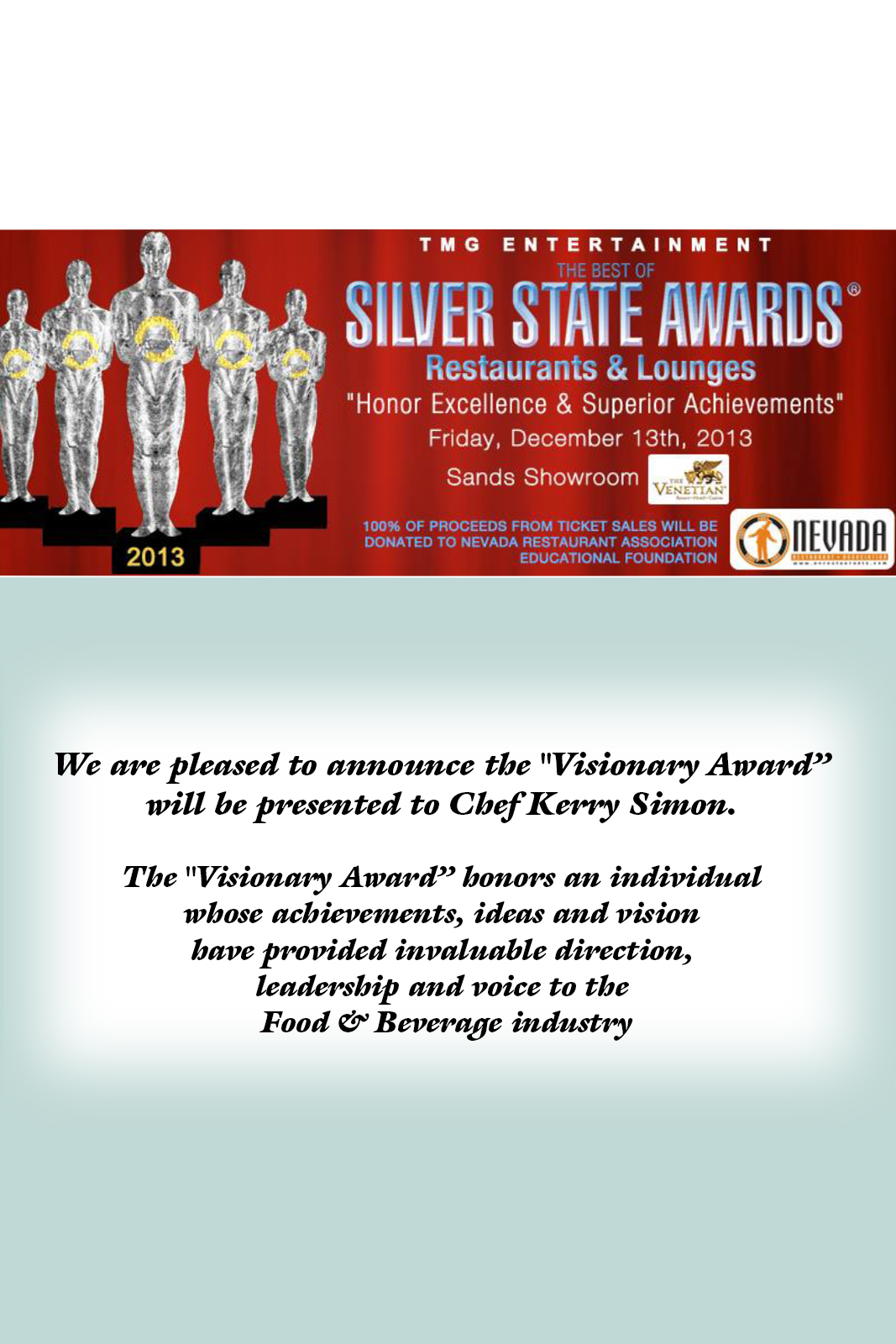 After graduating from the Culinary Institute of America in Hyde Park, New York, Simon moved to Manhattan and worked with the city's culinary legends, including Jean-Jacques Rachou of La Cote Basque and Andre Soltner of Lutece.
The next culinary challenge for Simon was Louis Outier's now closed Lafayette Restaurant in the Drake Hotel. It was there that he met his mentor and friend Jean-Georges Vongerichten. Holding both pastry and sous chef positions, Simon helped Lafayette receive its New York Times four-star rating in 1988..
Soon after, Ivana Trump appointed him executive chef of The Plaza Hotel's Edwardian Room, the youngest chef to hold that title. Almost immediately the restaurant became one of the city's hot spots, with celebrities such as David Bowie, Iman, and Matt Dillon, Diane Keaton, Debbie Harry and INXS clamoring for a reservation at the private chef's table.
In search of a new adventure, Simon left The Plaza's Edwardian Room and traveled to Russia, Europe and the Far East. When he returned to the U.S., he chose Miami for his comeback and opened Blue Star at the Raleigh Hotel, where he first developed what would become his signature approach to American comfort food. Blue Star was an immediate success, leading Simon to open The Raleigh's Starfish, a seafood restaurant. Max's and Mercury restaurants soon followed.
Viewing his Miami experiences as a great source of knowledge, Simon decided to try a whole new culinary path - the path of the culinary executive. Working with Jean George Vongerichten's Vong International, Simon developed, opened or oversaw culinary establishments in Hong Kong, New York, London, Chicago and Las Vegas.
While in Las Vegas opening Jean-George Vongerichten's Prime Steakhouse in the then Steve Wynn Bellagio, Simon decided to stay on as the executive chef and make Las Vegas his home. Not only because he recognized Vegas as a new culinary frontier, but, also because Las Vegas' close proximity to Los Angeles and easy access to business travel were perfect for the next step in his career.
Simon started his own corporation known as UltraDev and partnered with trail blazing restaurateur Elizabeth Blau. In 2002 Chef Simon and Ms. Blau opened Simon Kitchen and Bar in the Hard Rock Hotel, Las Vegas. The venture was an immediate success and was awarded the status of best new restaurant by fabled food writer John Mariani.
The menu at Simon Kitchen and Bar was a combination of old comfort food favorites such as "the meatloaf" and truffled mac n' cheese as well as new fare such as wood fired pizzas, seafood explorations and the search for the perfect hamburger.
The same "prefect hamburger" that Simon created to triumph over Chef Cat Cora on the hit television show Iron Chef America.
Los Angeles was a logical next step for the Iron Chef America winner, who has many friends in the entertainment industry. In 2006 Simon and business partner Elizabeth Blau opened SIMON LA at the revamped Sofitel Hotel in Hollywood. As Executive Chef, his modern American cuisine continues to win rave reviews from Angelenos, making the restaurant one of Hollywood's most popular dining destinations.
In 2008 Simon revamped his Simon K&B concept and moved the concept to Palms Place opening Simon Restaurant & Lounge, where he offers sushi, steak, seafood and many of his comfort food classics. His come as you are pajama Sunday brunch reigns as one of the most popular brunches in Las Vegas.
2010 was a busy year for Celebrity Chef Kerry Simon starting with the opening in February of LA Market at the JW Marriott Los Angeles, located in the entertainment campus L.A. LIVE. In the midst of the culinary renaissance and redevelopment of downtown Los Angeles, the restaurant echoes the excitement of the L.A. LIVE entertainment complex showcasing Chef Kerry Simon's 'rock-n-roll' approach to modern cuisine.
In June of 2010 Simon opened Simon | AC at the Atlantic Club Casino on the boardwalk. Next, in July, he opened his own burger concept, KGB (Kerry's Gourmet Burgers) a burger and Vodka Bar at Harrah's on the fabulous Las Vegas Strip.
Presently, Celebrity Chef Kerry Simon will be taking on the pleasure of providing his culinary delights to patrons of Sapphire Gentlemen's Club Pool Bar with a grand opening the weekend of May 2nd.
Another grand opening of great note will be the June showcase of his new restaurant concept in the Hard Rock Hotel in Punta Cana. -Simon Mansion and Supper Club. At Simon Mansion guests will not only be treated to a delectable meal, but will also get a peek behind the curtain of a rockstar's decadent abode. A modern American restaurant with California and Caribbean flair, Chef Simon has created an eclectic yet composed menu boasting a variety of innovative appetizers, delectable entrees, dry-aged meats, local seafood and an extensive fresh sushi menu.
Today Simon's creativity, sense of adventure and passion for his craft have laid the foundation for all of his restaurants, uniting food and fun in an environment guests return to time and again.