Recipes
Tuna Dynamite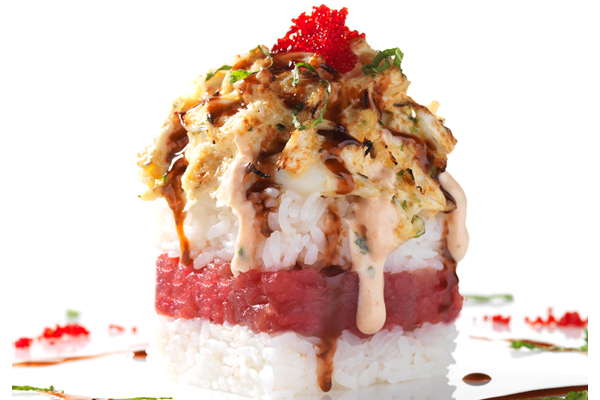 (Yields 4 dynamites)
Ingredients
2 cups seasoned sushi rice (scroll down for recipe)
1 cup dyno mayo(scroll down for recipe)
12 oz sake
8 oz mirin
4 oz soy sauce
2 inch square sake masu (cup)
(can be purchased online at Amazon
and other websites)
plastic wrap
sake masu lined with plastic wrap
broiler safe plates or pan


apportion sushi rice, dyno mayo,
sake, mirin & soy.


Note : a 2X2 plastic container
may be substituted for sake masu.
Preparation and Assembly
1) Combine and reduce the sake, mirin, and soy sauce, until 1⁄2 cup of liquid remains.
2) Place a small layer of rice in the bottom of the lined sake masu.
3) Layer the tuna on top of the rice and allow enough room for another layer of rice.
4) Top the tuna with a final layer of rice.
Note : Dynamites may be prepared, wrapped in plastic wrap and saved in the refrigerator for later use.
5) Unwrap and remove all plastic wrap and place Dynamite on broiler safe plate or pan.
6) Top with 1⁄4 cup dyno mayo per dynamite.
7) Place under broiler until the dyno mayo is brown.
8) Drizzle with sake, mirin, soy reduction and serve.
Sushi Rice Recipe
(makes 1 cup rice)
stainless steel mixing bowl
measuring spoons
apportion rice, rice vinegar & mirin.
Preparation
1) Rinse the rice until water turns clear.
2) Place rice in the rice cooker/steamer.
3) Fill up rice cooker/steamer with cold water until it reaches about an inch above the surface of the rice.
4) Cook rice for approximately 20 minutes then remove rice from steamer and fluff .
5) Transfer rice into a stainless steel mixing bowl to cool and rest for 20 minutes.
6) Heat rice vinegar, sweet mirin, granulated sugar, & sea salt in a non-reactive pan until it is a warm, liquid, mixture.
DO NOT BOIL
7) Add the seasoning mixture to the stainless steel bowl of rice and mix lightly.
8) Cover with a damp towel until use in Tuna Dynamite recipe.
Dyno Mayo Recipe
(makes 1 cup mayo)
mixing bowl
measuring spoons
apportion mayonnaise
chop basil & cilantro
Preparation
1) Set aside crabmeat.
2) In mixing bowl blend all other ingredients together until thick.
3) Chill mixture 20 minutes.
4) Mix in crabmeat. DynoMayo!
Beatific Breakfast Wrap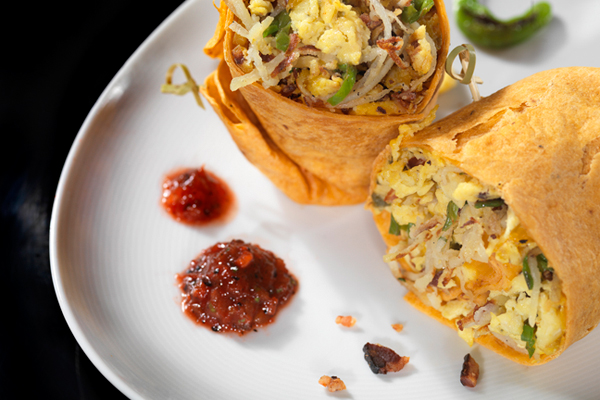 Breakfast Wrap
scrambled eggs, potatoes, aged cheddar, bacon and green chilies
(makes 1 wrap)
Ingredients
1 roasted poblano chili(diced)
2 strips cooked bacon(diced)
2 slices cheddar cheese
your favorite salsa
Garnish : seasonal fruit
broiler safe pan
egg whisk
extra virgin olive oil
hashbrown mixture
diced poblano chili & bacon
sliced cheddar cheese
eggs whisked to a pale yellow color
Preparation and Assembly
1) Heat hashbrowns on griddle until golden brown.
2) Combine, eggs, diced chilies and bacon in broiler safe pan and cook until eggs are firm.
3) Add golden-brown hash browns to broiler safe pan.
4) Top with sliced cheddar.
5) Place broiler safe pan under broiler until cheddar cheese is melted.
6) Mix ingredients and roll in warm chipotle tortilla.
7)Serve with your favorite salsa !
Zesty Raw Salad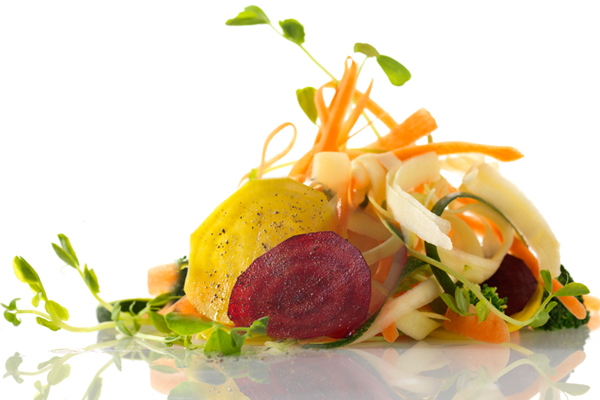 Raw Salad
organic vegetables, extra virgin olive oil, lime
(serves 4 as a starter salad)
Ingredients
4 baby red carrots, peeled
4 baby yellow carrots,peeled
1/2 small(baseball size) jicama, peeled
2 stalks of celery with leaves, halved
1/2 small (baseball size) celery root, peeled
6 small radishes of varying colors
1/2 cup broccoli florets
2 brussel sprouts
4 spears of asparagus, halved
2 sprigs of tarragon picked
juice and zest of two limes
3 ounces organic extra virgin olive oil
1/2 cup raw pistachio rough chopped
1 avocado small diced
salt and pepper to taste
citrus zester
large mixing bowl
wash and peel vegetables
wash picked tarragon
halve celery and separate leaves
halve asparagus
julienne brussel sprouts
dice avocado
apportion olive oil, pistachio and broccoli florets
Preparation and Assembly
1) Use mandoline to slice carrots, jicama, celery, celery root, radishes and asparagus into wafer thin slices.
2) Add sliced vegetables to large mixing bowl and lightly toss.
3) Add julienned brussel sprouts and lightly toss.
4) Add picked tarragon, broccoli florets, celery leaves, lime zest.
5) Add lime juice and lightly toss.
6) Add olive oil and mix well. Salt + pepper to taste. Toss.
7) Assemble dish on a chilled plate and serve.
Simon's Jumbo Lump Crab + Avocado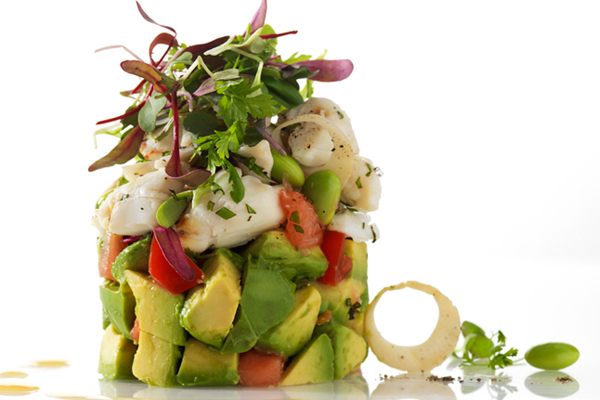 Jumbo Lump Crab + Avocado
hearts of palm, edamame, micro greens, grapefruit vinaigrette
(makes 4 servings)
2 mixing bowls
prepare grapefruit vinaigrette
dice tomato + grapefruit
slice hearts of palm
chiffonade basil, mint + cilantro
remove edamame from pods
Preparation and Assembly
1) Place diced avocado in mixing bowl + season with salt, pepper + lime juice. Add the diced tomato and gently mix.
2) In second mixing bowl combine the crabmeat with salt, pepper, grapefruit vinaigrette, basil, mint, cilantro, edemame, hearts of palm + grapefruit segments. Gently mix.
3) Place ring mold in center of chilled plate and gently spoon in avocado mixture. Now add crab mixture on top of avocado mixture. Remove mold.
4) Remove any remaining crab mixture from mixing bowl.

Note : The crab mixture can be saved in refrigerator up to a week. Crab mixture can be used in other salads or sandwiches.
5) Now place micro amaranth in crab mixing bowl + use remaining glaze from crab mixture to season. Top crab/avocado assemblies with micro amaranth.
6) Garnish plate with grapefruit vinaigrette + serve.
Grapefruit Vinaigrette
(yields 1 cup)
Ingredients
2 cups fresh grapefruit juice
1 cup canola oil
1 tablespoon sugar
salt and pepper to taste
high speed blender
Apportion grapefruit juice + canola oil
Preparation

1) In a non-reactive pan reduce grapefruit juice to 1/2 cup.
2) Transfer to blender, select high speed + slowly drizzle in canola oil.
3) Now add the sugar and season to taste with salt + pepper.